Mayhem Film Festival 2019 preview
Thinking of joining us for Mayhem Film Festival's 15th edition? Festival Programmer, Meli Gueneau, previews this year's line-up:
"We have ghosts, witches, pretend vampires, pig-men, crocodiles, and dysfunctional families – hopefully, there's something for everyone!"

Meli Gueneau, Mayhem Film Festival Programmer
We're delighted to welcome two special guests this year; filmmaker Mike Ahern, who co-directed Irish horror comedy, Extra Ordinary, will join us to open the festival on Thursday night. Writer Garret Shanley will present our highly anticipated screening of sci-fi nightmare Vivarium on Sunday evening. Both will take part in post-screening Q&As following their respective films.
Want to see films before anyone else? We have four UK Premieres this year. On Friday, we're taking you to a pagan village during the Middle Ages with Polish historical drama, Sword of God (The Mute). Ever been trapped in a drained pool with your girlfriend, a crocodile and no way to escape? Well, that's what happens to our lead in Thai horror The Pool on Saturday. Also on Saturday, we have one of the most fun, action-packed crime thrillers of the year, The Gangster, The Cop, The Devil. If you like your genre films to keep you awake at night and make you fear your own house, then Door Lock is the one for you on Sunday afternoon.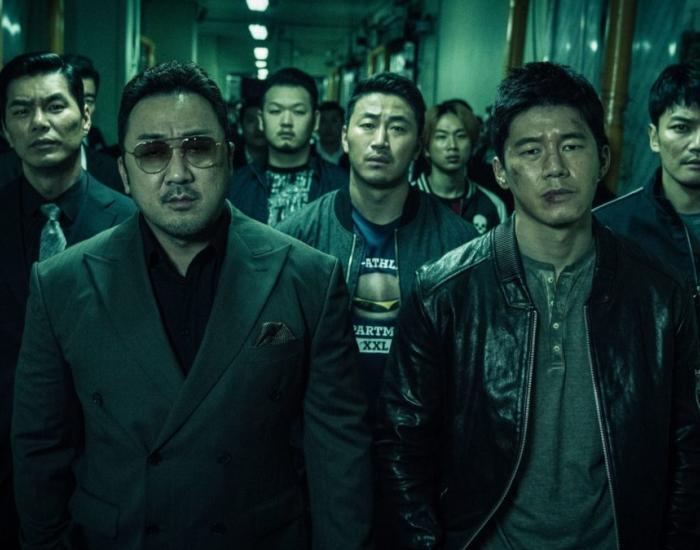 "I came last year and I liked that Mandy film" – I hear you say. Well, this year we have two servings of Nicolas Cage, with Richard Stanley's new cosmic film based on a story from HP Lovecraft, Color Out of Space – it's sold out though, sorry! But fear not, tickets are still available for our 30th anniversary screening of Vampire's Kiss so we can all chant the alphabet together on Saturday night. And if you were a fan of Mandy, you may want to check out Daniel Isn't Real on Thursday night, from the same production company, about a young man turning back to his old childhood imaginary friend for help (what could go wrong?)
Fancy something a bit cult? We've got some super soldier pig-men in Bullets of Justice on Sunday afternoon. Or if you want something a little less bonkers, then you may enjoy our closing film, Come to Daddy starring Elijah Wood and Stephen McHattie.
"Relationships are complicated, especially when ghosts and monsters get involved..."
For a slice of archive, check our 1960s Russian witch delight, Viy on Friday afternoon, or Kyle MacLachlan hunting an alien in Jack Sholder's The Hidden, on Friday night.
Relationships are complicated, especially when ghosts and monsters get involved. Our leads in After Midnight (Something Else) and Girl on the Third Floor find out the hard way. But it's never really as complicated as real life when your attempt at killing your girlfriend's dad turns sour as in Why Don't You Just Die!
"This is great but films are exhausting and my attention span doesn't stretch that long." Fear not, our Short Film Showcase is back and bigger than ever with 16 films in total, two World Premieres, one International Premiere, one European Premiere and five UK Premieres. We've got vampires, children trying to go to bed, witches, teenagers, zombies, seances, bizarre experiments, dystopian futures, disturbing last requests, hauntings, and chilling animations.
This year's full line-up can be found here. Full festival passes and our screening of Color Out of Space are now both sold out. Individual tickets and our Frankenstein ticket package (5 films for £30) are still available.